[et_pb_section bb_built="1″][et_pb_row][et_pb_column type="4_4″][et_pb_text]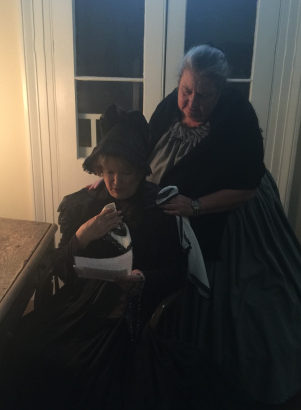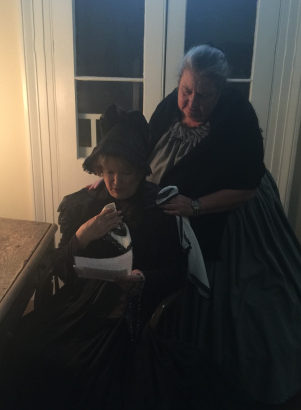 By Ellen Byron, award-winning mystery writer
When you write mysteries, you tend to gravitate toward the macabre, which is how I ended up on the Creole Mourning Tour offered by St. Joseph Plantation in Louisiana. It was fun to experience a really good living history tour, as opposed to the lame one foisted upon Maggie Crozat and her co-workers by an obnoxious new boss in my latest Cajun Country Mystery, A Cajun Christmas Killing.
The St. Joseph tour offered fascinating insights into the Creole customs and superstitions surrounding death. It helps that it's the rare plantation still in family hands, so a lot of the information has been passed down through generations. Maureen Gilly, St. Joseph's general manager, is the great-great-great-granddaughter of Joseph Waguespack, who bought the plantation in 1877. She introduced the tour, and then turned it over to a cast of re-enactors who wove history into their characterizations.
As I went from room to room, I was welcomed by grieving family members of the deceased, a Dr. Cazemir Bernard Mericq who lived at the plantation prior to the Civil War. Genuinely a good doctor, he didn't discriminate, tending to both the manor house and enslaved residents. So his death was truly a loss to his wife, daughters, and other family members.
* The deceased was loaded into the horse-drawn hearse feet-first so that the spirits couldn't make eye contact with the mourners, thus dooming them. Another theory was that if the spirit of the departed could look back at the house, it might decide not to leave. (Can you say haunted???)
* Visitation of the deceased took place at home for tradition's sake, but also because given the lack of medical knowledge, there was always the chance he or she wasn't actually dead. So keeping the resumed-departed out of the ground for twenty-four to forty-eight hours provided at least some insurance against being buried alive.
* There were strict rules about the length of time to mourn, from widows down to workers. And the length of time spent in mourning was much longer for women than men. (Why is that no surprise?)
* There were also rigid rules regarding mourning apparel. For the first six months, a widow's garments could only be made from a flat black fabric. After six months, the fabric still had to be black, but it could be shiny. After a year, she was allowed to segue into gray or lavender garments. Jewelry was restricted to materials like onyx and wood, or featured designs woven from the deceased's own hair.
* Even dolls went into mourning.
Of all these rituals, I think the only one I'd embrace is covering the mirrors with black cloth – at least until I hit my Weight Watchers goal weight.
Like I mentioned, the St. Joseph tour offered a wealth of history regarding Creole mourning practices. I hope I got the traditions I shared right. If not, I hope the spirits don't hunt me down to offer corrections.
[/et_pb_text][/et_pb_column][/et_pb_row][et_pb_row][et_pb_column type="4_4″][et_pb_gallery _builder_version="3.0.86″ show_title_and_caption="on" show_pagination="on" gallery_ids="1297,1296,1295,1294″ fullwidth="off" orientation="landscape" zoom_icon_color="#4a991a" hover_overlay_color="rgba(255,255,255,0.9)" background_layout="light" pagination_font_size_tablet="51″ pagination_line_height_tablet="2″ /][/et_pb_column][/et_pb_row][/et_pb_section]