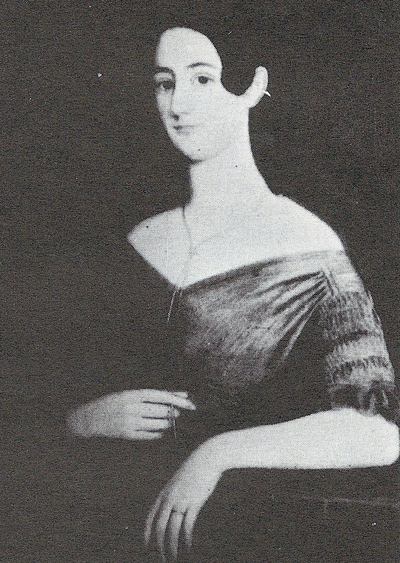 Joséphine Aime (1821-), married in 1839, Alexis Ferry II, by whom she had children. Valcour bought the couple St. Joseph Plantation as a wedding gift.
Previously Josephine Aime and Alexis Ferry moved to St. Mary Parish, where they lived in a small home, near Jeanerette, bought for them by Agricole Grevemberg, the husband of their eldest daughter, Effie. She had died soon after her marriage to Agricole Grevemberg, and he had married her first cousin, Alice Fortier, the daughter of Alexandre Septime Fortier and Felicite Emma Aime.
In 1866 a storm devastated the St. Joseph Plantation property (also called Home Place and Josephine House), in 1866. Alexis Ferry's widow [Josephine Aime], sold to Edward Gay, who resold it to Joseph Waguespack. Numerious outbuildings surround the house.
aft 1866 – Later, "Tante Zo" as she [Josephine Aime] was affectionately called, must have moved to New Orleans. We remember as children going to the small shop run by her daughters, Christine, Uranie and Coralie Ferry. It was fascinating to hear the little bell as we opened the door to go to the little shop. Toys and goodies were arranged neatly on narrow shelves in their small front room, and the "ladies" tried hard to please. Their little shop remains still a pleasant childhood memory.
1870 – At mile mark 22.7 (east bank) on the upriver side of La. 642 is the community of Remy, on the site of Bourbon Plantation. Earliest records reveal the property was owned by the family Perret in 1806, after which it changed hands several times until Alexis Ferry purchased it after his marriage to Josephine Aime, daughter of legendary west-bank sugar planter Valcour Aime. From his initial purchase of five arpents frontage, Ferry acquired other property until Bourbon Plantation claimed sixteen arpents frontage in 1857. Before the Civil War, Ferry was one of the most important landholders in the area. He also owned a large plantation across the river called Home Place, now called St. Joseph, which his father-in-law helped purchase. His widow sold Bourbon Plantation in 1870; among its subsequent owners was Pierre Louis Remy, after whom the community is named. (Mary Ann Sternberg, ALONG THE RIVER ROAD).